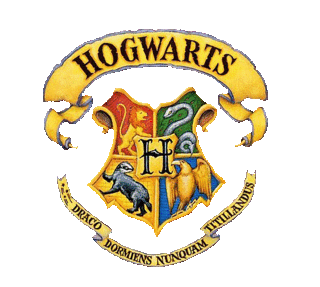 Oh you may not think me pretty,
But don't judge on what you see,
I'll eat myself if you can find
A smarter hat than me.
You can keep your bowlers black,
Your top hats sleek and tall,
For I'm the Hogwarts Sorting Hat
And I can cap them all.
There's nothing hidden in your head
The Sorting Hat can't see,
So try me on and I will tell you
Where you ought to be.

You might belong in Gryffindor,
Where dwell the brave at heart,
Their daring, nerve, and chivalry
Set Gryffindors apart;
You might belong in Hufflepuff,
Where they are just and loyal,
Those patient Hufflepuffs are true
And unafraid of toil;
Or yet in wise old Ravenclaw,
if you've a ready mind,
Where those of wit and learning,
Will always find their kind;
Or perhaps in Slytherin
You'll make your real friends,
Those cunning folks use any means
To achieve their ends.

So put me on! Don't be afraid!
And don't get in a flap!
You're in safe hands (though I have none)
For I'm a Thinking Cap!
Welcome to Hogwarts! If you are here to be sorted, please fill out the application below. DO NOT make a new thread. Post after this message. Remember to return back here and be sure that I have approved your house status. If not, then you will be placed in a different house. This is not likely to happen. Most of the time, you will get your desired house.
Student Enrollment Form:
Name:

Please post username.

Desired House:

Please post your desired house.

Second Desired House:

Please post your second desired house.

Hobbies:

Please post any hobbies you enjoy.
If you would prefer to take a sorting hat quiz, take the one followed here; and when you get your answer, post the result IN THIS THREAD. Answer the following questions as directed:
Choose 5 relevant Attributes from the quiz you just took and list them below. If you cannot get to them, or for some reason, forgot, just think of 5 different Attributes. Answer the following questions in the box.
Quiz Format:
Quiz Answer:

Name:

Please post username.

Quiz Answer:

Please post the house the quiz decided.

Attributes:

Please post 5 things about yourself.
Admin




Posts

: 4


Join date

: 2010-01-07


Age

: 28





Similar topics
---
Permissions in this forum:
You
cannot
reply to topics in this forum